Organised by the « Healthscaping Urban Europe » ERC-project and the Henri Pirenne Institute.
Matter into Place: Public Health and Urban Space in the Medieval Low Countries | Premodern Healthscaping (hcommons.org)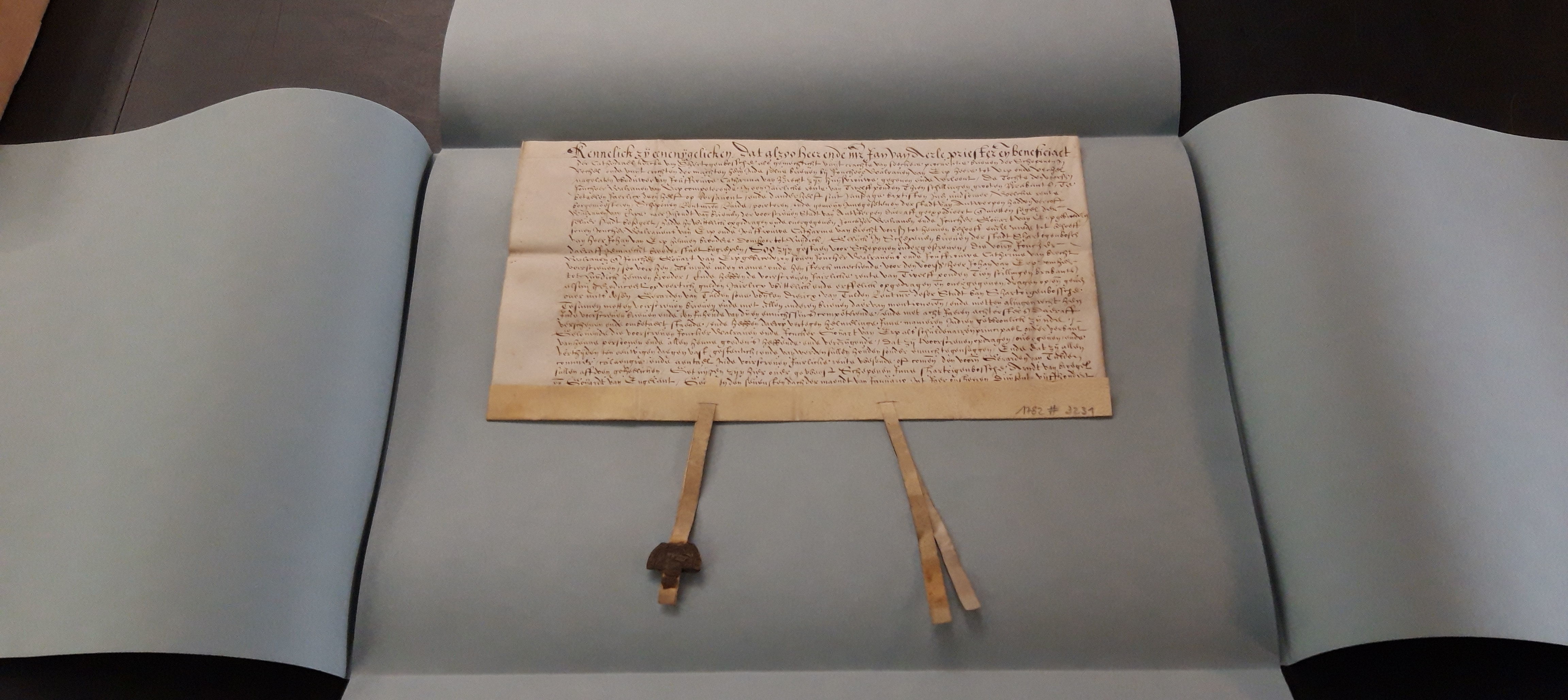 Een eerste gedeelte van deze schepenbrieven – zo'n 250 charters – kreeg onlangs een relaxatiebehandeling en werd in een proper jasje gestoken. Deze schepenbrieven of charters, waarvan 10 % reeds gedigitaliseerd, zijn van groot belang voor de lokale geschiedenis. De oudste schepenbrieven in het OCMW-archief dateren van het begin van de 13de eeuw en gaan over de talrijke eigendommen intra en extra muros van het Sint-Elisabethgasthuis
Nieuws | FelixArchief (antwerpen.be)
Biannual meeting of the European Association for the History of Medicine and Health, organized in cooperation with the Research Group Cultural History since 1750 at KU Leuven.
https://kuleuvencongres.be/eahmh2021/home.

Faith and religion are part and parcel of the field of medicine and of healing practices. For in times of illness, we are in need of faith. We might express our faith in those who aim to heal us as we recognize and trust their ability to do so. In some settings, both today and in the past, such faith takes on explicit spiritual and religious meanings. It is performed through rituals and shaped by belief systems, shared (or not) between patients, doctors and other caregivers. In other settings, it is the belief in science or other concepts of medicine that drives patients', caregivers' and scientists' search for cures and well-being. Moreover, outside the biomedical domain, hope for improvement drives the search for alternative modes of healing and self-healing, practices often strongly imbued with faith, rituals and conversion narratives. The 2021 EAHMH conference places these questions of trust, belief, religion, hope and devotion centre stage in the history of medicine and health.
Dates: Friday 18 and Saturday 19 June 2021
Organized by the BIU Santé Médecine, Université de Paris. Working languages: French and English. Online (Zoom). Free of charge with prior registration. Contact: info-hist@biusante.parisdescartes.fr
Inscription au colloque: https://ceres.parisdescartes.fr/index.php/896671?lang=fr
Symposium registration: https://ceres.parisdescartes.fr/index.php/896671?lang=en
In June 2016, four large atlases containing two hundred and fifty anatomical drawings made around 1654-1660 in Leiden (Netherlands) were identified at the BIU Santé. Produced by the painter Marten Sagemolen (ca. 1620-1669) under the direction of the anatomist Johannes van Horne (1621-1670), they systematically describe the muscles of man. This impressive collection had been lost since the middle of the 18th century.
The albums entered the collections of the Ecole de Santé in 1796, along with the magnificent drawings by the painter Gerard de Lairesse (1641-1711) [https://www.biusante.parisdescartes.fr/histoire/medica/presentations/lairesse-bidloo-cowper.php] for the anatomy of Govard Bidloo (1649-1713), and they have remained ever since in the medical library at 12, rue de l'Ecole de Médecine in Paris (now BIU Santé Médecine). Purchased as an anonymous lot along the Lairesse masterpiece, the albums had not been successfully examined until 2016.
The rarity of this set and the surprise of its identification piqued interest. After initial documentation [https://www.biusante.parisdescartes.fr/blog/index.php/redecouverte-anatomie-van-horne-sagemolen/ ] and digitisation [https://www.biusante.parisdescartes.fr/histoire/medica/presentations/sagemolen.php] by the BIU Santé's medical history department, a conservation and study project was carried out with the Bibliothèque nationale de France and the Centre de recherche et de restauration des musées de France.
The project will result in two events this year which will be held seperatly due to the current health crisis : the symposium will take place online in June and the exhibition of the albums at the Musée d'histoire de la Médecine is delayed until the autumn 2021 (more information soon).
Medical Objects Symposium – Leuven Interdisciplinary Platform for the Study of the Sciences (LIPSS) (kuleuven.be)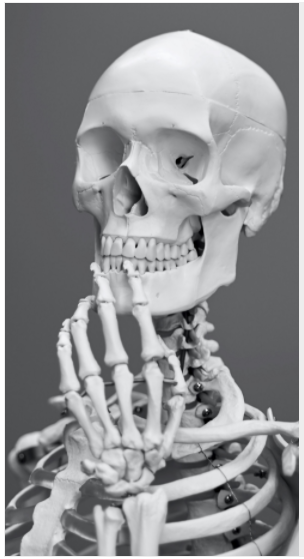 Space and the Hospital: International Network for the History of Hospitals Conference 26-28 May 2021 | INHH
For the Low Countries : on May 28, Session 9 | 9:00-10:30 Spaces of Knowledge and Healing
Mats Dijkdrent (University of Cambridge), "Healing through Space: Plague and Mental Health Institutions in the Sixteenth-Century Low Countries".
infoblad aankondiging boek 'IJzeren longen, warme harten'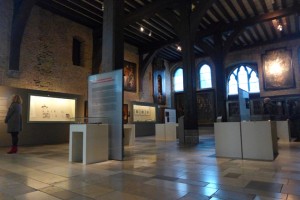 Aansluitend bij de tentoonstelling "Van chirurgijns tot pestheiligen. Ziek zijn in Brugge in de 16de en 17de eeuw", is sedert 31 oktober 2013 in het Hospitaalmuseum – Sint-Janshospitaal, een proefopstelling toegankelijk die de medische geschiedenis van het Sint-Janshospitaal, tijdens het Ancien Régime, belicht. Het museum werkt voor dit project structureel samen met de Universiteit Gent/Museum voor de Geschiedenis van de Geneeskunde, de medisch-historische vereniging Montanus, de heer Dr. Johan Mattelaer, de Stedelijke Openbare bibliotheek Biekorf, het Bruggemuseum en het Groeningemuseum. Semipermanente tentoonstelling Hospitaalmuseum – Sint-Janshospitaal, Mariastraat 38, 8000 Brugge
We zijn alvast verheugd het volgende te mogen aankondigen: Onder vleugels van Hospitium verscheen recent bij uitgeverij Garant het eerste themacahier in de reeks 'Geschiedenis van de Geneeskunde en Gezondheidszorg'.  Deze cahierreeks is de opvolger van het periodieke tijdschrift 'Geschiedenis der Geneeskunde' (1994-2011).  Het betreft hier een mooi overzicht van elf artikelen die zeer uiteenlopend zijn van diverse auteurs, maar allen als rode draad hebben dat ze verband houden met de geschiedenis van de verpleegkunde en/of de patiëntenzorg.  Hospitium-leden Bob Van Hee, David Guilardian en Vincent Van Roy waren als redactieleden betrokken bij de realisatie en organisatie van dit boekproject.   Bedoeling is dat er binnen deze cahierreeks één maal per jaargang een themacahier wordt uitgegeven en éénmaal per jaar een cahier met 'jaaraanwinsten' en 'losse artikelen'. U kan deze publicatie aankopen in de Standaard boekhandels of het tevens online bestellen bij diverse aanbieders via volgende links: http://www.standaardboekhandel.be/seo/nl/boeken/geneeskunde/9789044130348/-/helpen-en-niet-schaden-uit-de-geschiedenis-van-verpleegkunde-en-medische-zorg http://www.bol.com/nl/p/helpen-en-niet-schaden/9200000013735179/ http://www.cosmox.be/boeken/geschiedenis-van-de-geneeskunde-en-gezondheidszorg-helpen-en-niet-schaden-uit-de-geschiedenis-van-verpleegkunde-en-medische-zorg-9789044130348 http://www.maklu.be/MakluEnGarant/BookDetails.aspx?id=9789044130348 http://www.boek.be/boek/helpen-en-niet-schaden-uit-de-geschiedenis-van-verpleegkunde-en-medische-zorg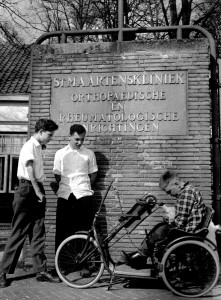 De Sint Maartenskliniek in Nijmegen werd 75 jaar geleden opgericht door Zusters van de Choorstraat uit Den Bosch. Het was de eerste katholieke instelling voor kinderen en volwassenen met een 'gebrek' op het gebied van houding en beweging. Ter gelegenheid van het jubileum heeft DZIGA een documentaire gemaakt over de geschiedenis van de Sint Maartenskliniek. De documentaire, vol met prachtig historisch beeldmateriaal, biedt een boeiende kijk op de ontwikkeling van de zorg in de 20e eeuw.
De prijs van deze fraaie DVD  bedraagt 15 euro.
Emailadres voor bestellingen stichtingkohesie@gmail.com