Impressive Internet tour of the renowned exhibition about the history of psychiatry   The Museum Dr. Guislain in Ghent is a reference for its exhibition about the history of mental health. For years, it has played a pioneering role in making the collection accessible to a broader public. With the launch of an extensive interactive tour, it permanently and virtually opens its doors to a worldwide public. The tour shows 26 key pieces that give the digital visitor an overview of the evolution of how psychiatric patients were treated and goes into the evolution of neuroscientific research in more detail. Unlike similar initiatives, each piece is presented in a dynamic and interactive way, using prominent video testimonies, special photo selections, 360° applications and extensive reports. The virtual tour is available in Dutch, French, English and Japanese. The tour is available on http://www.mentalhealth-history.org.
infoblad aankondiging boek 'IJzeren longen, warme harten'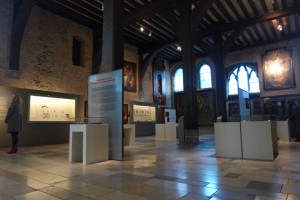 Aansluitend bij de tentoonstelling "Van chirurgijns tot pestheiligen. Ziek zijn in Brugge in de 16de en 17de eeuw", is sedert 31 oktober 2013 in het Hospitaalmuseum – Sint-Janshospitaal, een proefopstelling toegankelijk die de medische geschiedenis van het Sint-Janshospitaal, tijdens het Ancien Régime, belicht. Het museum werkt voor dit project structureel samen met de Universiteit Gent/Museum voor de Geschiedenis van de Geneeskunde, de medisch-historische vereniging Montanus, de heer Dr. Johan Mattelaer, de Stedelijke Openbare bibliotheek Biekorf, het Bruggemuseum en het Groeningemuseum. Semipermanente tentoonstelling Hospitaalmuseum – Sint-Janshospitaal, Mariastraat 38, 8000 Brugge
We zijn alvast verheugd het volgende te mogen aankondigen: Onder vleugels van Hospitium verscheen recent bij uitgeverij Garant het eerste themacahier in de reeks 'Geschiedenis van de Geneeskunde en Gezondheidszorg'.  Deze cahierreeks is de opvolger van het periodieke tijdschrift 'Geschiedenis der Geneeskunde' (1994-2011).  Het betreft hier een mooi overzicht van elf artikelen die zeer uiteenlopend zijn van diverse auteurs, maar allen als rode draad hebben dat ze verband houden met de geschiedenis van de verpleegkunde en/of de patiëntenzorg.  Hospitium-leden Bob Van Hee, David Guilardian en Vincent Van Roy waren als redactieleden betrokken bij de realisatie en organisatie van dit boekproject.   Bedoeling is dat er binnen deze cahierreeks één maal per jaargang een themacahier wordt uitgegeven en éénmaal per jaar een cahier met 'jaaraanwinsten' en 'losse artikelen'. U kan deze publicatie aankopen in de Standaard boekhandels of het tevens online bestellen bij diverse aanbieders via volgende links: http://www.standaardboekhandel.be/seo/nl/boeken/geneeskunde/9789044130348/-/helpen-en-niet-schaden-uit-de-geschiedenis-van-verpleegkunde-en-medische-zorg http://www.bol.com/nl/p/helpen-en-niet-schaden/9200000013735179/ http://www.cosmox.be/boeken/geschiedenis-van-de-geneeskunde-en-gezondheidszorg-helpen-en-niet-schaden-uit-de-geschiedenis-van-verpleegkunde-en-medische-zorg-9789044130348 http://www.maklu.be/MakluEnGarant/BookDetails.aspx?id=9789044130348 http://www.boek.be/boek/helpen-en-niet-schaden-uit-de-geschiedenis-van-verpleegkunde-en-medische-zorg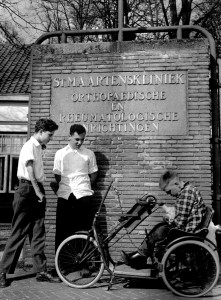 De Sint Maartenskliniek in Nijmegen werd 75 jaar geleden opgericht door Zusters van de Choorstraat uit Den Bosch. Het was de eerste katholieke instelling voor kinderen en volwassenen met een 'gebrek' op het gebied van houding en beweging. Ter gelegenheid van het jubileum heeft DZIGA een documentaire gemaakt over de geschiedenis van de Sint Maartenskliniek. De documentaire, vol met prachtig historisch beeldmateriaal, biedt een boeiende kijk op de ontwikkeling van de zorg in de 20e eeuw.
De prijs van deze fraaie DVD  bedraagt 15 euro.
Emailadres voor bestellingen stichtingkohesie@gmail.com